S&W Kitchens, Inc. has teamed with the National Kitchen and Bath Association to donate, design, and install an authentic restoration of the 210-square-foot kitchen and butler's pantry at historic Casa Feliz. Casa Feliz is a Winter Park, Florida estate home.  It was built in 1933 and is now a special event venue and public museum, that was saved from a planned demolition by a Winter Park citizens group. It was placed on the National Register of Historic Places late last year. "The kitchen and butler's pantry are the only areas of the house that were not previously restored", said William Burke, lead designer for the project at S&W Kitchens, a Winter Park and Longwood, Florida supplier and designer of products for kitchens and bathrooms. Burke is treasurer of the NKBA's Central Florida chapter. "We plan to formally unveil the restoration at a September 24 meeting of the NKBA of Central Florida at Casa Feliz," he reported.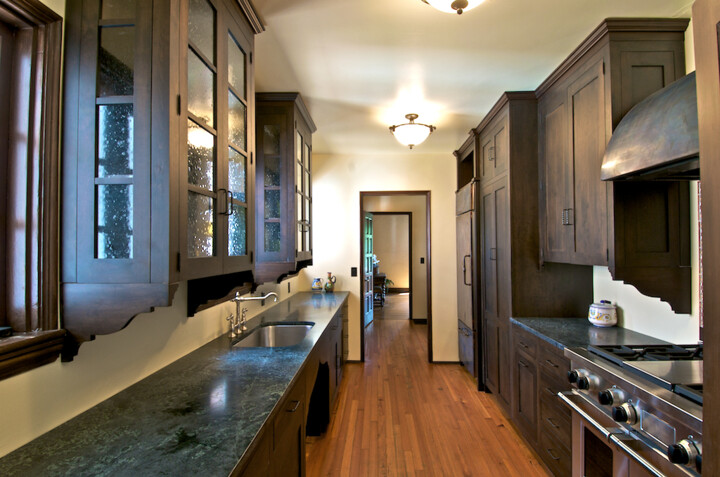 Cabinetry, countertops and appliances, to be used by caterers and chefs at weddings, parties and other events, was installed by S&W Kitchens. "S&W Kitchen's expertise was used to ensure that the kitchen's new design will adhere to the home's historic period while still being modern and functional for today", noted S&W Kitchens president Brian Cummings. For example, the countertops are made of soapstone, a mixture of natural limestone and talc that is similar in appearance to slate and was used widely in kitchens in the 1930s.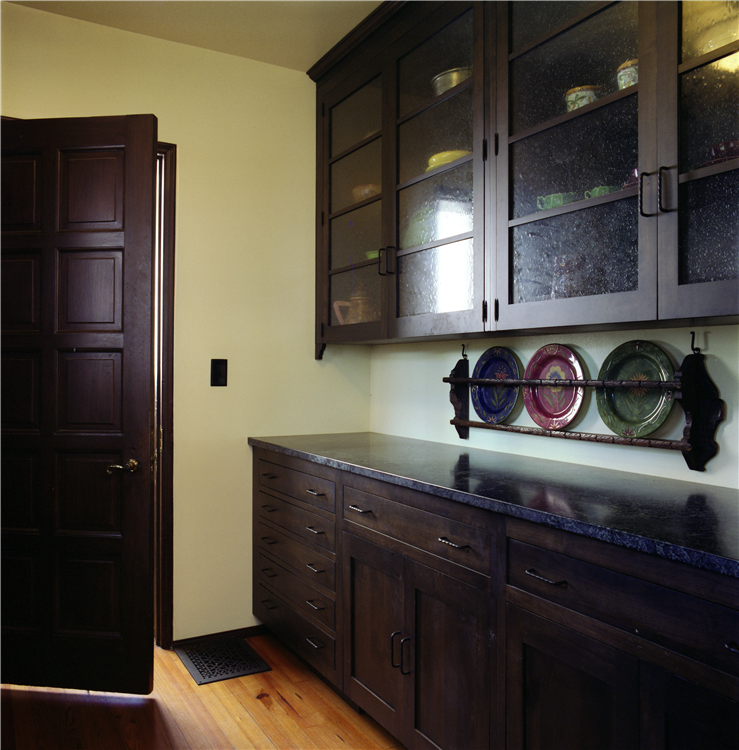 Most of the custom-designed, high-end Omega line of cabinetry by Master Brands is donated by Master Brands. It is dark alder wood with a chestnut finish. "The base cabinets have simply designed swinging doors without bottoms so that caterers can slide their carts right underneath the doors", said Cummings, "while a tall storage unit with pocket doors will be able to comfortably fit a caterer's hotbox".
Burke said that studying the blueprints for Casa Feliz's original kitchen determined the need for cabinets that would be 14 inches in depth, which is two inches deeper than standard ones. Custom designed scrolled valances over windows and under countertops, and muntons on windows will complete the new look.  The NKBA's Central Florida chapter has been actively seeking donations of products and labor from its member companies, and S&W Kitchens was one of the first to respond to work on the project, said chapter president Mark Warren.
"We're honored to have this opportunity to give back to the community and to this magnificent museum," said Warren, who also is owner of The Kitchen Director, a kitchen and home cabinetry design firm in Lakeland, Florida. In addition, Kristin Sellers, winner of the NKBA's 2008 student design competition, is assisting with the kitchen design's decorative accent pieces and other accessories.
Others involved in the restoration project include Betsy Owen, who is director of Casa Feliz and daughter of Winter Park architect Jack Rogers. Rogers, whose noted father, James Gamble Rogers, designed the home, was instrumental in forming the citizens group that saved Casa Feliz from demolition and began its restoration as a public site.Burke and staff at S&W Kitchens have enthusiastically immersed themselves in researching the home's period style as well as designing and installing the project. "We're hoping an historic restoration can become an annual event for us," he said. Cummings added that "it is a tribute to the professional quality of the work of NKBA members that they were selected to update this historic landmark. Homeowners planning kitchen projects are encouraged to visit Casa Feliz when the restoration is finished to see the level of quality they also can receive for their own homes."