Your budget doesn't have to be flexible if your selections are.
Many people go into remodeling their kitchen or bath not knowing how much they want to spend for the entire project. After some discussion and preliminary selections, a budget can be set that meets your needs.
This is the point were S & W Kitchens will really stand apart from the competition. We are empowered to act as your agent. We will search and shop your products for you, using all of our many resources and industry contacts to find the best available products for the best price.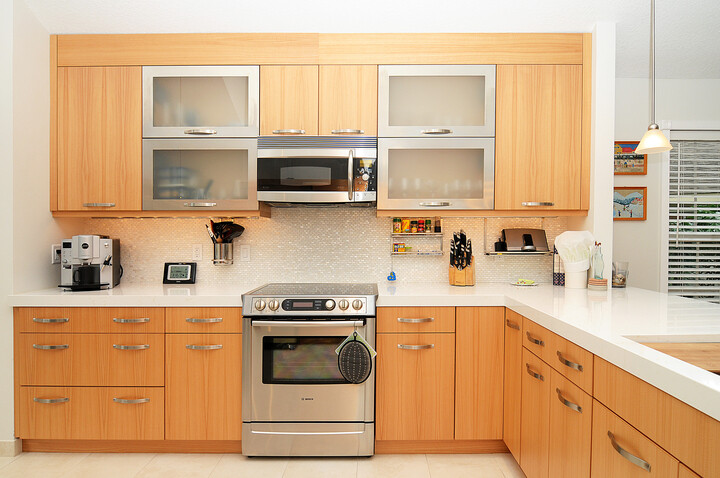 We leverage our good name and standing on your behalf.
Recently, a couple came to us with a kitchen remodeling budget already set in their minds and asked if it was a reasonable amount for the entire project. We explained that if they were flexible on their final selections it was a workable number. At this point priorities are established with the client. For this couple, functionality of the kitchen design was paramount and they wanted cherry cabinets and granite countertops.
We looked at many options and searched the current promotions from our vending partners.
They wanted cherry, but chose alder to save some money. Alder and cherry look almost identical, but alder is about 5-10% less expensive. As a trade off, the granite was selected from the more expensive "B" category instead of the least expensive "A" category. Along with the alder wood, the vendor was offering a free glazed finish promotion, so they were able to get a more sophisticated look. With the granite tops, the fabricator was offering a free stainless steel sink for our customers, which saved them money. The bottom line is that with some minor changes the client was able to get the kitchen of their dreams and stay within budget. The time is right to remodel your kitchen or tackle that bathroom renovation you've been dreaming of. Please contact one of our fine designers and put them to work for you!
You might check out this blog about Budgets for Your Home Remodel for more details on kitchen and bath remodeling budgets.